Aug
29
Hello everyone! Hope all of you are doing great! It's been a bit radio silence as I've been feeling a bit inundated with life and for awhile there it felt like I needed a big restart button. Gearing up for our Chic Sweets' shop launch, the boys, and not too long ago, Sasha (our Husky of almost 14 years) passed away. Sasha not in our lives has been a big adjustment for our family and I guess the only thing that will really heal is time…but I can't lie…we (especially me and Steve) are feeling a bit wounded.
On the flip side (and there is no easy transition from that), we just got back on a BIG, six day trip from Colombia, where both of my parents were born and grew up. I have so many fond memories of going there during when I was little and it's always felt like my second home. With Sasha's passing, the timing was also a much needed escape that all of us needed. The trip was more amazing than I could have ever imagined (minus the airplane hike with a toddler and two boys which I'm trying to erase from my memory) and it was more special to see the boys totally surrounded in the Colombian culture–the food, the views, our family–we hit the boys full force. And even better, it was Steve's (the boss man) first time in Colombia as well!!! Wooohoo! I'm sitting here still surround by suitcases that I will hopefully get to some time this year.
And below is a little glimpse into our view–the grass on the mountains looked like carpet it was so perfect.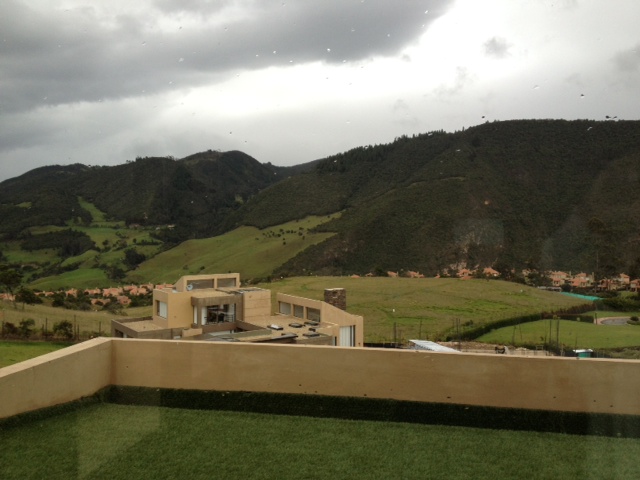 Now, enough about me, and onto a birthday party I'm thrilled to share. As you can read through my blog, Shay Cochrane is an amazing product photographer that I've been lucky enough to work with for some time. She's also responsible for all the beautiful images in our last blog post. Not too ago we did Shay's daughter (the gorgeous Vera) birthday party. I'm always giddy when it comes to designing a table for a girl's birthday parties or baby showers especially since I live in boy world 24-7 so where I can throw myself in pink and corals, I'm so game!
For this table, I wanted to play around with much smaller balloons and create a wall-backdrop of sorts. We always work with larger balloons, but like anything, we've been using them so much lately, I wanted to do something different and I was really happy with the way it came out!
So enjoy everyone and I'm crossing my fingers to have some shop information for everyone by next week. It's taken way longer than I thought it would, but sadly, I inherited this perfectionist gene and I want it to be peeerrrrrfeect. HA!
PHOTOGRAPHER CREDIT: SHAY COCHRANE PHOTOGRAPHY