Jun
1
Hello June!
How it it June already? Seriously, June???? Wow. This week has felt slightly odd…spring wedding season wrapped up last weekend for us and I finally have a moment to breathe. Since these past few weeks have been a blur of babies, weddings, events and toddlers, I'm highly determined to get back on track…so I'm sharing a glimpse into my goals for this month: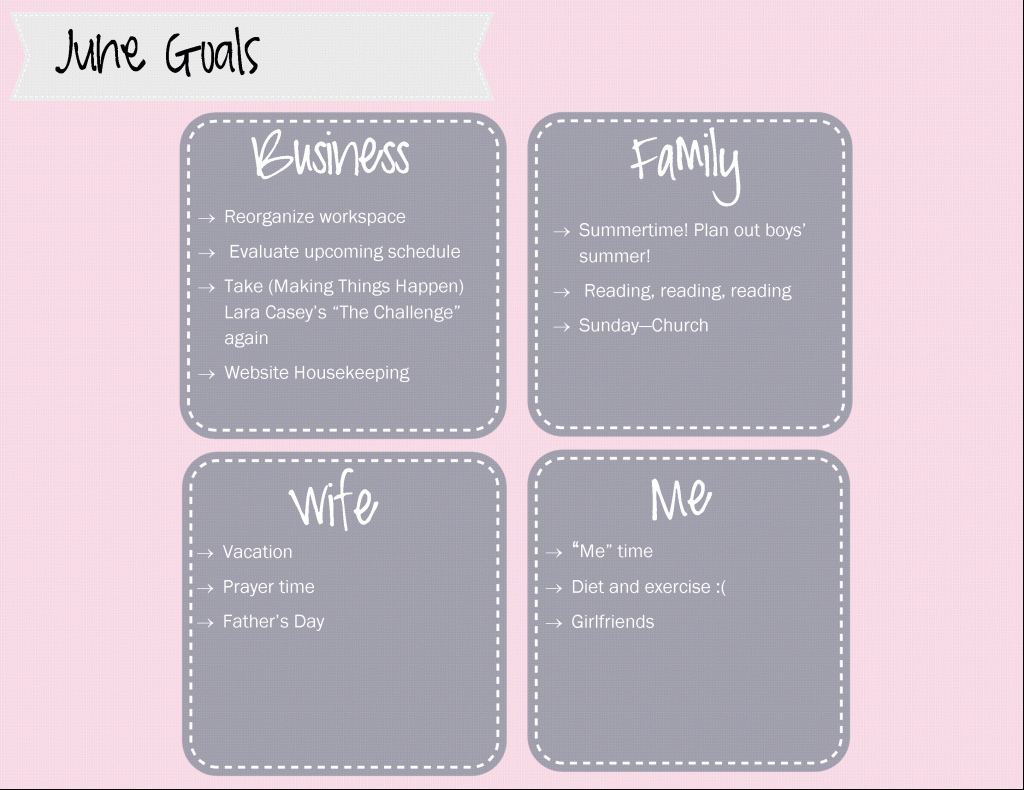 Buisness: Goodness. Must devote energy into reorganizing my workspace. Spring wedding season hit us hard and the fact that I'm still staring at February's calendar on my desk is not a good sign. Can't wait to get started. Also need to start looking into the coming weeks ahead and working on schedule. Take Lara Casey's Challenge again which is an exercise that I absolutely love to do and always puts me back on track. And finally, taking some much needed time to the website, making some changes and adding a big extension onto Chic Sweets. Details to come soon…
Family: Summertime is here! The summer is here and I have my boys the majority of the time but between a few camps they are signed up for and spending time with their favorite person (amazing caregiver, Carmen), the summer should be busy. And of course, my sidekick Baby P is with me at all times…so let's just say life is interesting, fun and chaotic all wrapped in one. But honestly, I'm really aiming to more intentional with my time so when the Chic Sweets "hat" is off, it's off!
Wife: Last night Steve turned to me and said, "It feels weird not to be working late at night. I feel like something is missing." I didn't let that statement settle in until today and I guess what's missing is time with eachother…minus the work. And that my friends, can be hard to do. Working on it!
Me: Spring wedding season is coming to a close and I'm looking forward to coming out of hibernation and spending time with special girlfriends. Also something I've been avoiding for seven months now….my health and weight. Having a third child can really take a toll on your body but I can honestly say I've made little effort do anything about it. Can't I just wake up and fit into all my clothes again? No??? Are you sure? Didn't think so.
So there you have it. My June at a glance! Now for just staying on track…
Natalie
Leave a Reply